National Volunteering Week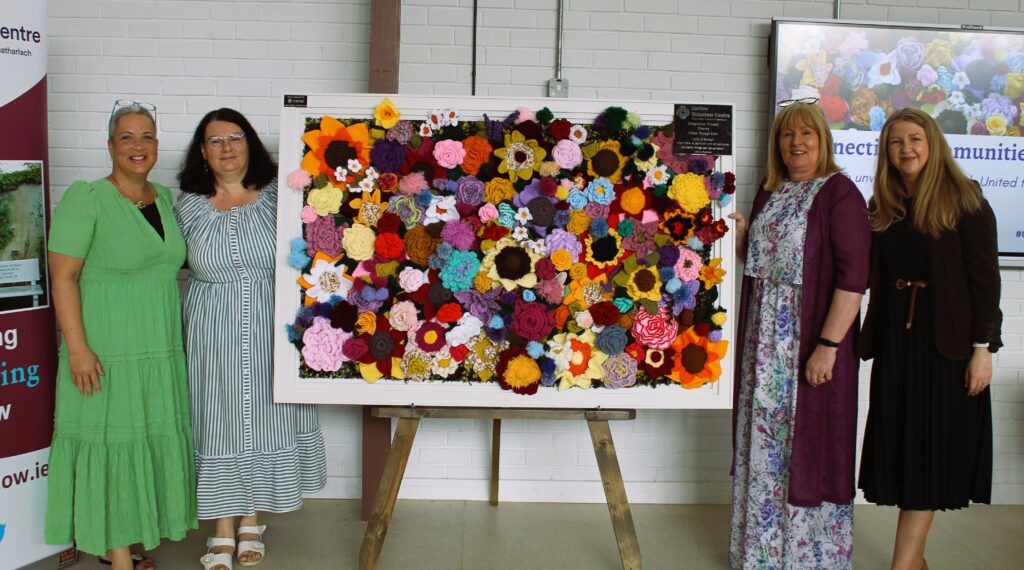 Carlow Volunteer Centre had a brilliant morning at their Connecting Communities event to celebrate National Volunteering Week in An Gairdín Beo. They were joined by volunteers to unveil the 'Flowers' Mural. This mural is the product of the Integration Project which Carlow Volunteer Centre ran over a number of months. Over 50 volunteers took part on Thursday mornings to crochet and knit flowers over tea, coffee, biscuits and chats. "We were looking for ways people newly arrived into Carlow could get involved, and create opportunities in which they could meet people and get to know the area. Over the months, we've have volunteers from several countries come along and craft flowers. It's been a fantastic project and we're so proud of how it has turned out" explained Helen Rothwell, Manager of Carlow Volunteer Centre. Carlow Volunteer Centre also presented Certificates to Edel Spillane from Unum and Jennifer Corr from MSD with Certificates as a small thank you for the corporate volunteering projects the staff undertook last year.
If you would like to see this beautiful Flowers Mural, you can call to the Carlow Volunteer Centre office.
Turas Nua 'Give Back' to The Irish Wheelchair Association
Volunteers from Turas Nua made the most of their 'Giving Back Day' by helping The Irish Wheelchair Association with their garden. The volunteers arrived fully equipped on Friday June 30th. Adam and the team had a great day helping out and staff of the IWA really appreciate the efforts they put in.