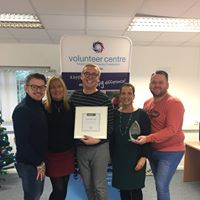 Carlow Man Wins National Volunteer Award
Carlow local John Paul Payne was named the winner in the Arts, Culture and Media category at the national Volunteer Ireland Awards on Friday night for his commitment to the Carlow Pride Festival.John Paul had always dreamt of making Carlow a great place to live for everyone and 8 months ago he formed a
committee to create the first ever Carlow Pride Festival. The committee is made up of people from all social backgrounds, sexual orientations, abilities and ages. He created an environment for people to show true leadership where normally they may not within society.
John Paul spent 8 months working with local businesses, Government bodies and the general public to create a truly colourful event. 3,500 people attended the inaugural parade and festival, which was completely free for everyone to enjoy.
According to Carlow Volunteer Centre Manager Helen Rothwell "We are lucky to have volunteers like John Paul in Carlow. Starting something like this from scratch isn't easy but his hard work and dedication paid off to create a truly memorable event in Carlow. Volunteers are often unseen but the contribution they make to Irish society is immense. These awards give us a chance to say thank you and celebrate the difference volunteers make every day."
Owodunni Mustapha was named Christine Buckley Volunteer of the Year for her commitment and dedication to supporting the residents of the Old Convent Direct Provision Centre Ballyhaunis where she lives.
Seán Canney, Minister of State for Community Development, Natural Resources and Digital Development said "Volunteers make an invaluable contribution to Irish society, supporting vibrant and inclusive communities across the country. Their impact cannot be understated and awards like these are vital to show our appreciation for all that they do and inspire new people to volunteer. I'm delighted that my Department is able to support these awards."
According to Kate O'Flaherty, Head of Health and Wellbeing, Department of Health: "Volunteers are at the heart of healthy, sustainable communities. The nominees show the impact that volunteers have on the health and well-being of their communities and the people that live in them. Volunteers give their time and energy helping others and there are well-proven benefits for health and mental wellbeing. Healthy Ireland is delighted to partner with Volunteer Ireland and to celebrate with the various nominees and acknowledge their work."
The Volunteer Ireland Awards are now in their twelfth year and aim to shine a light on the ordinary people doing extraordinary things in our communities every day. Eleven category winners and the overall Volunteer of the Year were named at an awards ceremony in the Carlton Hotel, Blanchardstown on Friday 6th December. The awards are supported by the Department of Rural and Community Development and Healthy Ireland.